An effort towards Sustainable Travel
We have been having thoughts lately regarding flying and using cars - ofcourse, it's all about the carbon emissions. So when we went to Texel, we tried our best to reduce it as much as possible. Reaching Texel from Brussels includes, hopping across multiple stops - reaching Brussels Midi by Brussels metro, Brussels Midi to Amsterdam centraal by Thalys train, Amsterdam centraal to Den Helder by IC Train, Den Helder to Ferry Terminal by Connexxion Bus, Ferry to Texel, Den Hoorn to Hotel by Texel Hopper. While the 2 buses are low emission and zero emission respectively, the other modes of transport (metro, train & ferry) are majorly committed to reduce their emissions (and have reduced theirs over the last few years) and anyways, work out much lesser than flights or cars!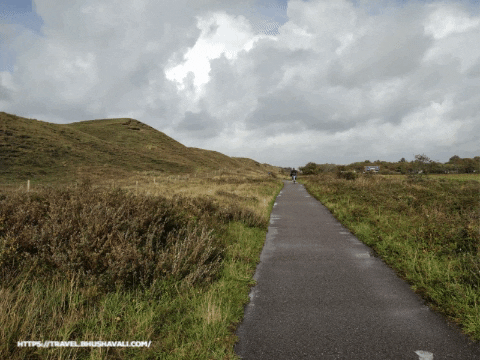 The Texelhopper bus is a unique concept as well. There are 2 routes, one permanent route that connects the 2 major villages and ferry point, which is served once every hour and another, a van type, that goes into the villages which also serves once every hour but goes into only those villages where someone has called & reserved! No energy is wasted unnecessarily at all!!!
Texel itself is an environmentally friendly vacation destination. It is made for cycling. It has a dedicated cycling path all over the island that extends as long as 140km! An extensive map is available in the tourism office. Their concept is called Fietsknooppunten (Bicycle Junction Nodes). These nodes are numbers at road junctions and you can just go from one point to another, following this number. Why this is awesome is because, you could just note down these numbers, looking at the map before you start, and go cycling even without GPS or internet on your phone!!!!! Every street is well marked and every junction has directions with these numbers. You'll not get lost!!!!!
The best part of cycling around Texel, is we could stop at a gazillion places on the way to enjoy the nature and click photographs! We had 2 cycles, one with a child-seat in the back. Earlier we tried to use the one with a front carriage due to the weather, but that scared Atyudarini way too much and she let out bloodcurdling scream to sit alone in that. She is used to back seat, so we switched to that and she was ok! These were electric bikes which worked really well to cycle all day long after an overnight charging. We kept the support at about 4-5 (max was 8) and with minimal effort we could bike more than 40km a day and we didn't even feel too tired at the end of the day.
Our first half-day (day 1) was spent gazing at the rain from our hotel window, including star-gazing at night! On day 2, we started soon after breakfast and our first route was from the hotel to De Cocksdorp on the main road (nodes 48-23-24-30). In the last bit we took a slight diversion and I'll tell you more about that later. Though called highway, we're still in a tiny island. Apart from occasional cars, a rare Texelhopper bus, its almost empty. There are fields on either sides with sheep, horses and cows! Its so so so pleasing to just 'be' here!
This main road (nodes 23-24) has a few interesting sights. Our first stop was this road-side picnic bench where we stopped for snacks. Yeah, we had packed our lunches from the hotel on this island-wide cycling trip. There was also this painted beacon here which got Atyudarini pretty excited. She wanted to roll it like a merry-go-round and got a bit upset when it didn't move!!!
Our next pit-stop was at the Texel Airport. While this is used by small aircrafts and helicopters, there are 2 primary activities - one is for rescue helicopter and another is for skydiving aircrafts via Paracentrum Texel. Just here is the Aviation and War Museum as well which we didn't have time to look into.
At node 30, we took a slight diversion from highway, and went into the Fietspad (cycle path) via nodes 28, 29. This Fietspad is an amazing concept where there is a tiny paved pathway in the middle of nowhere, surrounded by all greenery and forests and occasional farm houses! This is where I had an unforgettable experience. As I stopped to click a few pictures, I saw, it was raining on the flowers that I was photographing, like 20ft away. I mean, I SAW! But it was NOT raining on me! Before I knew, in a fraction of a second, it WAS raining on me! That's the most surreal, unforgettable experience in the whole of my Texel trip!!!! At the end was Vuurtoren (node 30) and after that, we walked in the beach sands. But it was bit too cold for sea and we headed back.
For the return, we chose the Fietspad (nodes 29-28-27-22-21-20-17-16-46), instead of highway, to get back to hotel. Unlike the highway, this gave a more real feel of being in Texel with the varying landscapes of grasslands, shrubs, marshes, plateaus and more. Going along the marshes, we stopped at De Stufter viewpoint and by chance it rained at that very time and there was a rainbow! Past this on the way was the Duinen van Texel (Dunes of Texel National Park) where Ecomare, a sealife sanctuary and De Jager observatory are also located!
On the next day, our first stop was at the Texel Sheep Farm and from there we biked to Fort de Schans. From there, a northward ride towards De Schorren (nodes 40-38-37-36-35-34), along the sea was quite an experience. At many a times, there was literally no other soul on the road and at times we could feel the perfect solitude, with just the sea beside you!!!
In this route, are
Wadden Sea Harbour
(node 40) and
Molen Het Noorden
(nodes 35-34) as well.
While the east shore is cycle-able, the west shore is where the marshes and beaches are.
Later that day, we went on a ride into a few of the villages in the island! With the weather getting stormy on Day 4, we skipped doing anything at all. But what I wanted to do was to head to Fonteinsnol, a view point which was very close to the hotel and further ahead Strandpaviljoen, which is undoubtedly the best beach, complete with beach huts. Unfortunately these huts are rented out only per week and not per day!
Overall, Texel is a place where you could spend atleast 3-4 days. We had so much more to see & do, including some more trails, beaches, Ecomare, Cheese factory and more that we didn't manage to see/do in the time we had! No matter what you call it - a relaxed vacation, ecotourism, sustainable travel destination, green vacation, if you're in Europe, Texel is definitely a place to go. Its your local slice of paradise!
To Stay:
Hotels & BnBs at all price points are available in Texel.
Several camping grounds & beach huts are also available if you're a bit adventurous.
Check out my Bos en Duin Appartmentenhotel review where we stayed.
To Get There:
Nearest mainland railway station: Den Helder
Den Helder railway station to Ferry point: Bus 33
On Google Maps:
Rijwielverhuur Veerhaven, Texel Hopper Bus Stand
Bike Rental:
Rijwielverhuur Veerhaven
Prices begin at
€11 for regular bikes (with 7 gears),
€22 for tandem bikes,
€21.50 for electric bikes per day. Works out cheaper for multiple days. For 3 or more days rental, the bikes are delivered & picked-up from the hotel.
While there's an abundance availability of regular bikes, for other types its advisable to pre-book. Can be done online on their website.
Tickets & Timings:
Connexxion Bus 33:
€3;
T
his is free of cost if you have already purchased the ferry ticket online. If not, this is ticketed. Every hour from 6:12AM to 9:12PM.
TESO Ferry: €2.50 for pedestrian return journey; First ferry at 6:00AM (7:00 on Sundays) from Texel and 6:30AM (7:30AM on Sundays) from Den Helder. Last ferry at 9:00PM from Texel and 9:30PM from Den Helder.
Leaves every hour with extra services every half hour on Sundays from 9:30AM to 4:00PM.
Texel Hopper:
€3 for 1 ride,
€7.50 for a day ticket,
€17.50 for a week ticket. While Line 28 is a regular service, mini-bus needs to be booked half-an-hour prior by calling +31-
222-784000 or through their app.
My complete Texel Travelogue: Top 5 things to do in Texel, Wadden Sea UNESCO World Heritage, Villages of Texel Island, Cycling around Texel Island
P.S:
I was invited by VVV Texel Tourism to experience the region for review purposes, however the opinions are my own and this post does not to advertise the product/service.